您的轻量化小管家已上线!九月出发去扬州,你想问的我都知道,2019第十三届汽车轻量化大会暨展览会,I'm coming!
2019-06-26 10:03:41
来源:
热度:
2019第十三届汽车轻量化大会暨展览会现已进入三个月倒计时!轻量化大会小管家及时上线,为您配置详细攻略,您想问的我都知道~~
Lightweight conference housekeeper timely online, I know all that you want to know~~
Q1: 2019第十三届汽车轻量化大会暨展览会召开的时间和地点是什么?What is the time and Venue of 2019 Automotive lightweight Convention& Exhibition?
会议时间:2019年9月18-21日
会议地点:中国 扬州 国际会展中心
Time: September 18-21, 2019
Venue: Yangzhou international convention and exhibition center
Q2: 高端大气上档次的组织机构是什么?What is the sponsor of ALCE?
主办单位:
中国汽车工程学会、汽车轻量化技术创新战略联盟、电动汽车产业技术创新战略联盟、中国汽车零部件技术创新组织、江苏省科学技术协会、扬州市人民政府、江苏省汽车工程学会
协办单位:
清华大学、扬州大学、扬州市工业和信息化局、扬州市科学技术协会、大连兴科碳纤维有限公司
承办单位:
国汽(北京)汽车轻量化技术研究院有限公司、恒兴国际会展(北京)有限公司、中信金属股份有限公司(车身会议)
Host Unit:
China Automobile Engineering Society、Strategic Alliance for Technological Innovation of Automobile Lightweight、Strategic Alliance of Technological Innovation in Electric Vehicle Industry、China Auto Parts Technology Innovation Organization、Jiangsu Science and Technology Association、Yangzhou Municipal People's Government
Joint Unit:
Tsinghua University、Yangzhou University、Jiangsu Automobile Engineering Society、Yangzhou Industrial and Information Technology Bureau、Yangzhou Science and Technology Association、
Dalian xingke carbon fiber Co., LTD
Organizer:
Guoqi (Beijing) Automotive Lightweight Technology Research Institute Co., Ltd、Hengxing International Convention And Exhibition (Beijing) Co., Ltd、CITIC Metal Co., Ltd. (body meeting)
Q3:大会有哪些亮点透露?What are the highlights of the conference?
大会设置了专业技术报告、轻量化展览、系列对接活动等内容丰富、灵活多样的交流方式,秉承专业性、权威性、国际化办会理念,为汽车行业服务:
1)轻量化会议:设置1个主会场、10个分会场,共计200余场专业性技术报告,现已确定190场技术报告;
2)第七届中国轻量化车身会议:首次邀请商用车企业,扩大轻量化领域交流,现已确定一汽、东风、北汽、奇瑞、江淮、众泰、陕汽等6款车型;
3)专业展览:大会设置了10000㎡展览,现已确定60多家国内外参展企业;
4)轻量化设计奖:大会举办"2019年中国汽车轻量化设计奖"颁奖活动;
5)新产品新技术发布:针对汽车轻量化新产品、新技术,将组织10项新专题发布会;
6)专题交流与专场对接会:采取圆桌会议、专题讨论、大咖访谈、视角对话、专题演讲等多种形式展现轻量化技术、市场、资本对接会与交流会;
7)媒体多频次报道:邀请50余家主流媒体对会议进行多角度、多频次地报告。
The conference has set up rich and flexible ways ofcommunication, such as professional technical reports, lightweight exhibitions,series of docking activities, etc., adhering to the concept of professional,authoritative and international hosting, it serves the automobile industry.
1) Lightweight conference: set up one main venue and 10sub-venues, with more than 200 professional technical reports in total, and 190 technical reports have beenconfirmed;
2)The 7th China lightweight automobile body conference: invited commercialvehicle enterprises for the first time to expand the exchanges in the field of lightweight automobile, and now 6 models including faw, dongfeng, baic,chery, jac, zotai and shaanxi automobile have been confirmed;
3) Professional exhibition: the exhibition of 10000㎡has been set up, and more than 60 domestic and foreign exhibitors have been confirmed;
4)Lightweight design award: the conference will hold the "2019 China automotive lightweight design award" award ceremony;
5) Release of new products and technologies: 10 new special conferences will be organized for new products and technologies of automotive lightweight;
6) Special exchanges and matchmaking sessions: roundtable discussions, specialdiscussions, interviews with celebrities, perspective dialogues, special speeches and other forms are adopted to present the matchmaking and exchange sessions on lightweight technology, market and capital;
7) Multi-frequency media reports: more than 50 mainstream media are invited to give multi-angleand multi-frequency reports on the conference.
Q4:有哪些重量级的嘉宾参会呢?Who are the important guests?
Q5:会议日程设置是什么?有哪些企业参加呢? What's the agenda? Which companies are involved?
Q6:会议主题方向是什么?What is the theme direction of the meeting?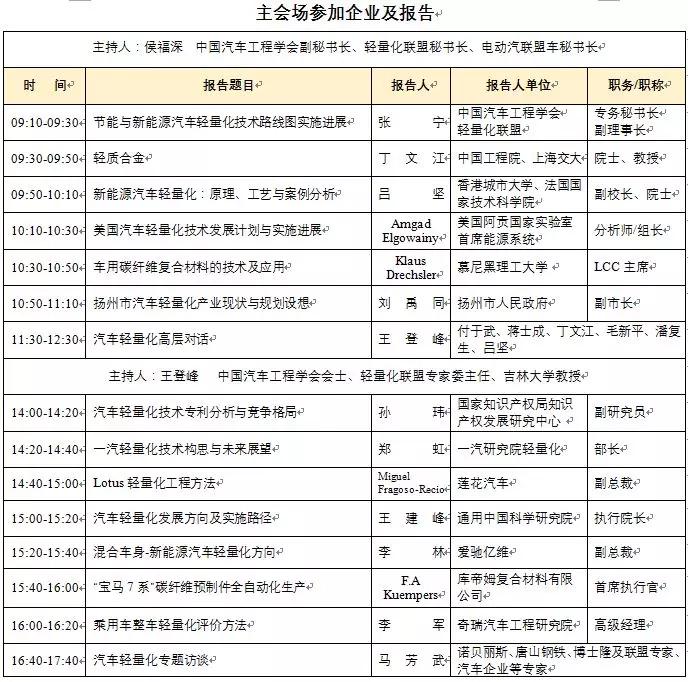 Q7:有具体的展览展位图规划吗?Is there any specific exhibition plan?
Q8:合作酒店如何预定?How to book a hotel?
扬州会议中心是由扬州市委党校全权委托扬子江集团管理的一家大型会议酒店。酒店座落在扬州市新城西区中心明月湖畔,毗临扬州国展中心、体育公园、双博馆、文化艺术中心、扬州火车站和扬州西部交通客运枢纽,环境优越,交通便利,可提供一站式住宿、用餐、会议、培训、休闲、度假等综合服务。
现在预订 http://www.yzcchotel.cn
订房促销代码:qcgc1721
Yangzhou conference center is a large conference hotelmanaged by yangzijiang group, which is fully authorized by the party school ofyangzhou municipal party committee.The hotel is located in the mingyue lake,the center of the west district of the new city of yangzhou, adjacent toyangzhou national exhibition center, sports park, shuangbo museum, culture andart center, yangzhou railway station and western transportation hub ofyangzhou.
Book now athttp://www.yzcchotel.cn
Room booking promotioncode: qcgc1721
Q9:没来得及报名怎么办?What if you haven't signed up yet. What should I do?
别担心,会议采取在线报名方式,请大家登陆系统报名,打印和留存报名信息,并带到报到现场。
报名网站:http://www.walce.cn/
Don't worry, online registration is used for the conference, Please log in the registration system, print and retain the registration information, and bring it to the registration site. Registration website:http://www.walce.cn/
End
感谢您对轻量化大会的关注和支持,我们在扬州恭候大家的光临,扬州不见不散呦!
Thank you for your attention and support to ALCE. We are waiting for you in Yangzhou. See you in Yangzhou!
扬州美食小贴士:不可不知的美食Top 2
You must know about Yangzhou
扬州炒饭又叫扬州蛋炒饭。一碗让人挂念的扬州炒饭需要根据当季当令的食材去更新配菜。无论是春笋丁、香菇丁,还是火腿丁、瑶柱丁,做好扬州炒饭的唯一标准就是粒粒见味。精选的籼米加上丰富的配料,大小错落有致,这样做出来的炒饭才可谓合规合矩。
Yangzhou Fried rice is also called yangzhou Fried rice with eggs.A memorable bowl of yangzhou Fried rice needs to be updated with seasonal ingredients.Whether it is bamboo shoots, mushroom, ham or conpoy cubes, the only standard for preparing yangzhou Fried rice is to taste the rice in small grains.Carefully selected indica rice with rich ingredients, the size of the mixed, so that the Fried rice can be said to be legitimate.
扬州的包子种类众多,在制作上更讲究一个"听"字。不止揉的时候要看手感,这面团拍起来的时候听着也一定要像木鱼声般真切,这样做出来的包子才格外软韧筋道。蒸熟的汤包一个个躺在小笼里,在热气中若隐若现的探着圆圆的脑袋,薄如蝉翼的外皮透着内馅的红润,稍一触碰就能看见里面的汤汁在轻轻晃动。
There are many kinds of steamed bun in yangzhou, and they pay more attention to the word "listen" in the production.More than kneading time to see the hand, the dough beat up when listening to the sound of wood fish as true, so that the steamed stuffed bun is particularly soft and pliable.Steamed soup dumplings lie in a small cage, in the heat of the round head, thin as cicada wing skin through the filling of the red, a touch can see the inside of the soup in the gently shaking.
扬州旅游攻略小贴士:不可不游览的美景
You must know about Yangzhou
瘦西湖园林群景色怡人,融南秀北雄为一体,在清代康乾时期即已形成基本格局,有"园林之盛,甲于天下"之誉。惟扬州的西湖,以其清秀婉丽的风姿独异诸湖。较之杭州西湖,另有一种清瘦的神韵。
The landscape of the slender west lake gardens is pleasant, integrating the south and the north as a whole. During the kangqian period of the qing dynasty, the basic pattern has been formed, and there is a reputation of "garden flourishing, most beautiful in the world".Yangzhou's west lake, with its beautiful and graceful charm unique lake.Compared with the west lake in hangzhou, there is a thin charm.
千年古刹大明寺雄踞在蜀冈中峰之上,依山面水,俯瞰风景秀丽、仪态万方的瘦西湖和万花园。大明寺集佛教庙宇、文物古迹和园林风光于一体,历来享有"淮东第一观"之盛名。大明寺始建于南朝宋孝武帝大明年间,故称"大明寺"。
Daming temple, an ancient temple for thousands of years, is situated on the middle peak of the shu mountains, with water on the mountain.Daming temple is a collection of buddhist temples, cultural relics and landscape in one, has always enjoyed the reputation of "the first view of the huai east".Daming temple was built in the southern song dynasty xiaowu emperor daming years, so called "daming temple."